What a fantastic day for the @WN_FEAST 🌞 Come and say hello to us outside our Knights Hill office. Find out how we can help you or you can help us #Community #WestNorwood #Lambeth pic.twitter.com/MzZIXNi3aj

— Centre 70 (@Centre70) July 3, 2022
The sun was out for the July feast and so were we, raising awareness of our services and talking about our work with passers by. With the cost of living crisis leaving many people in our community struggling with day to day finances, our Inspire volunteers were advising local people about how they could reduce their water bills.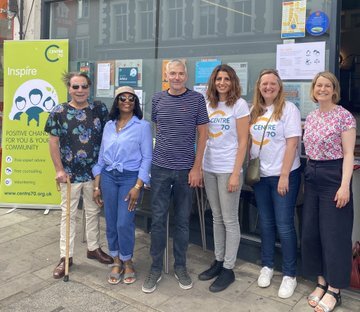 18:06, 10 Jul 2022 by Kate White

On Tuesday 28th June a team of trustees and staff joined thousands to take part in the London Legal Walk to raise funds to continue running our Legal Advice Clinic.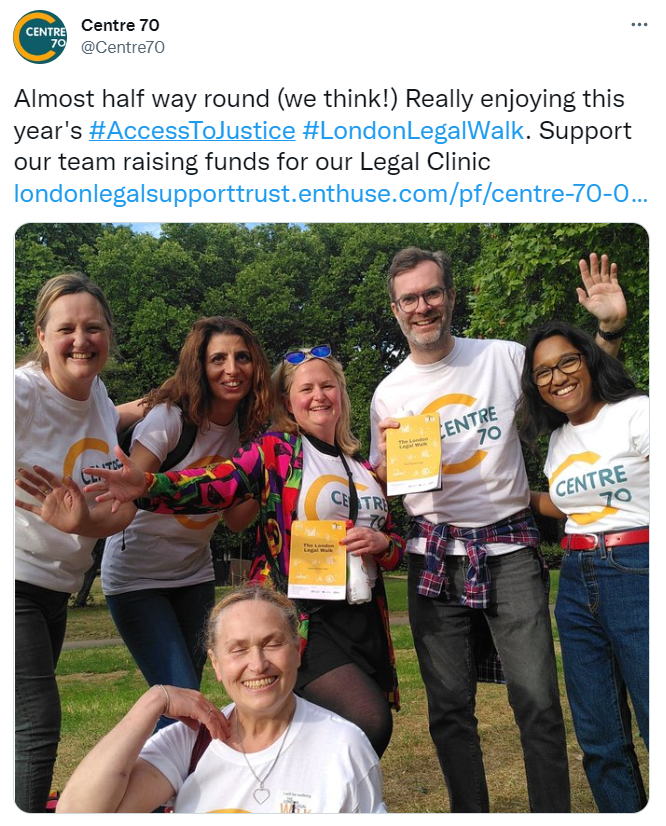 We are still accepting sponsorshp - please donate to support our work here.
18:10, 29 Jun 2022 by Kate White

Here at Centre 70 we're still working remotely, delivering advice and counselling by phone and online. Our tireless Inspire Volunteers are really missing opportunities to support their community at face-to-face events, so they have put together an online workshop to let people know about WaterHelp - this is a discount you can apply for very easily, and if you're eligible you could save 50% on your annual water bill.
If you'd like to find out about eligibility and how to apply, as well as other discounts and the priority service register, join us each month via Zoom for this short workshop, run by our friendly volunteers who have first hand experience of applying and how to save money.
WaterHelp Workshops
- Friday 27th August 10:30am
- Friday 24th September 10:30am
- Friday 22nd Oct 22 10:30am
- Friday 26th Nov 10:30am
https://us02web.zoom.us/j/87895229286
Open Zoom, and type in the meeting ID: 878 9522 9286
Contact us to find out more: inspirevol@centre70.org.uk
16:36, 05 Aug 2021 by Rosie Trustram
Tags:
Archive
Use the calendar or list of months to view entries made on those dates.
| S | M | T | W | T | F | S |
| --- | --- | --- | --- | --- | --- | --- |
| | 1 | 2 | 3 | 4 | 5 | 6 |
| 7 | 8 | 9 | 10 | 11 | 12 | 13 |
| 14 | 15 | 16 | 17 | 18 | 19 | 20 |
| 21 | 22 | 23 | 24 | 25 | 26 | 27 |
| 28 | 29 | 30 | 31 | | | |