Blog

Every year a team from Centre 70 joins the 10k London Legal Walk to raise vital funds to continue our Monday evening legal advice clinics. With help from our supporters, we are able to offer weekly sessions where pro bono lawyers volunteer to see clients with a range of legal issues not covered by our generalist and specialist advice provision.

Demand for appointments is high and we are looking to recruit additional lawyers, as well as paralegals, in order to expand the service. The clinics are not part of our funded work, so we rely on donations to cover costs of recruitment, session co-ordination and follow up admin.

We will be joining over 10,000 walkers from legal firms and charities walking to raise funds for access to social justice for the most vulnerable in our communities. Centre 70 is hoping to raise £4,000 and you can help us to reach our target by sponsoring us on our online sponsorship page. Contact us if you prefer to donate offline.

If you work for a law firm or barrister chambers already walking the Legal Walk, it is possible for up to 50% of that sponsorship raised to go to Centre 70. Again, please contact us to discuss further.

We thank you in advance for your support - only 5 weeks to go!



21:16, 13 May 2019 by Kate White

Trustees and volunteers joined forces to promote our advice and counselling services at the monthly West Norwood Feast on Sunday 6th May.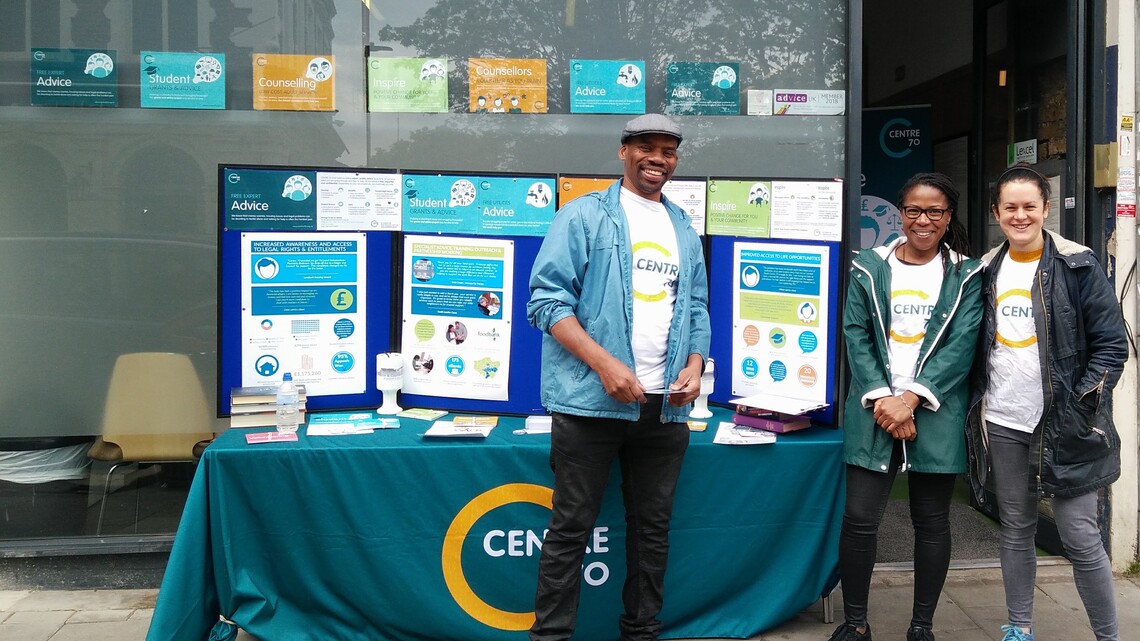 We also promoted ways that people can volunteer their time to support us - as counsellors, supervisers, fundraisers, trustees, lawyers, paralegals and more. Email volunteer@centre70.org.uk if you are interested in giving your time and expertise to support your local community and would like to discuss further - we'd love to hear from you.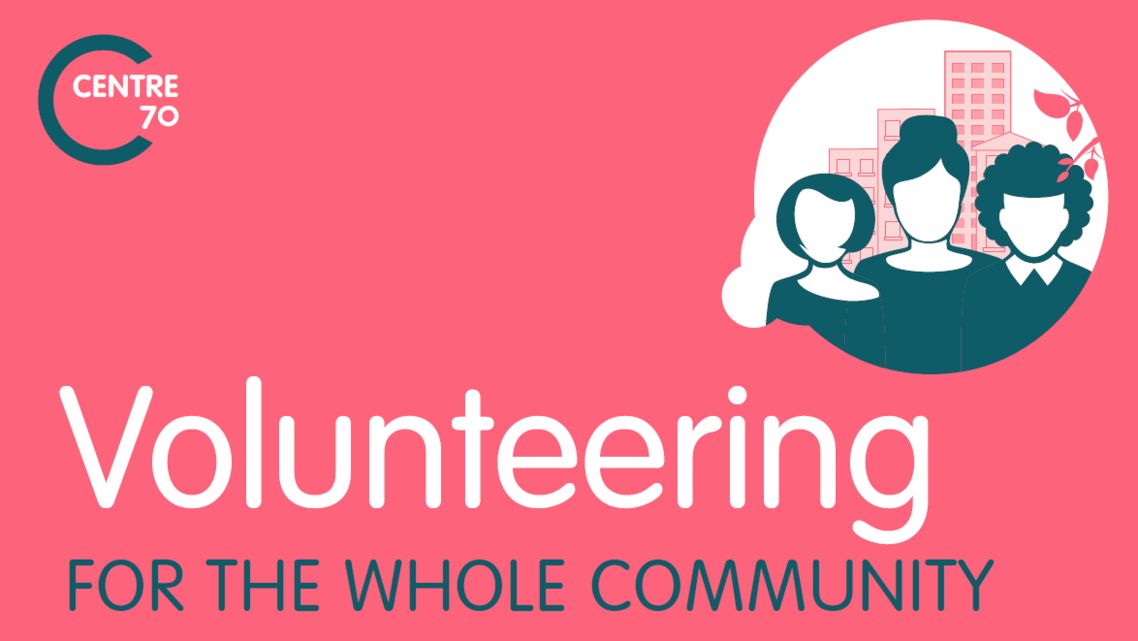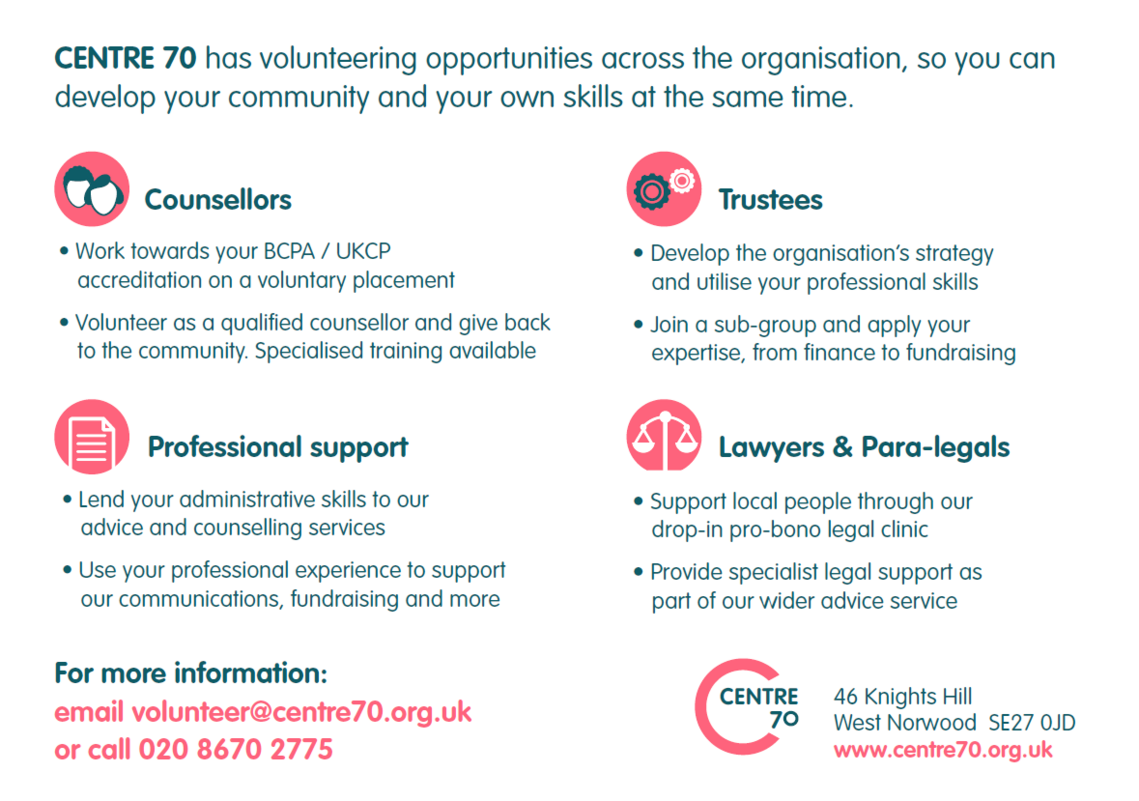 22:54, 06 May 2019 by Kate White

Centre 70's INSPIRE project volunteers leant a hand promoting the work of Centre 70's advice and counselling services at the West Norwood Library 50th Anniversary celebrations, along with other local organisations.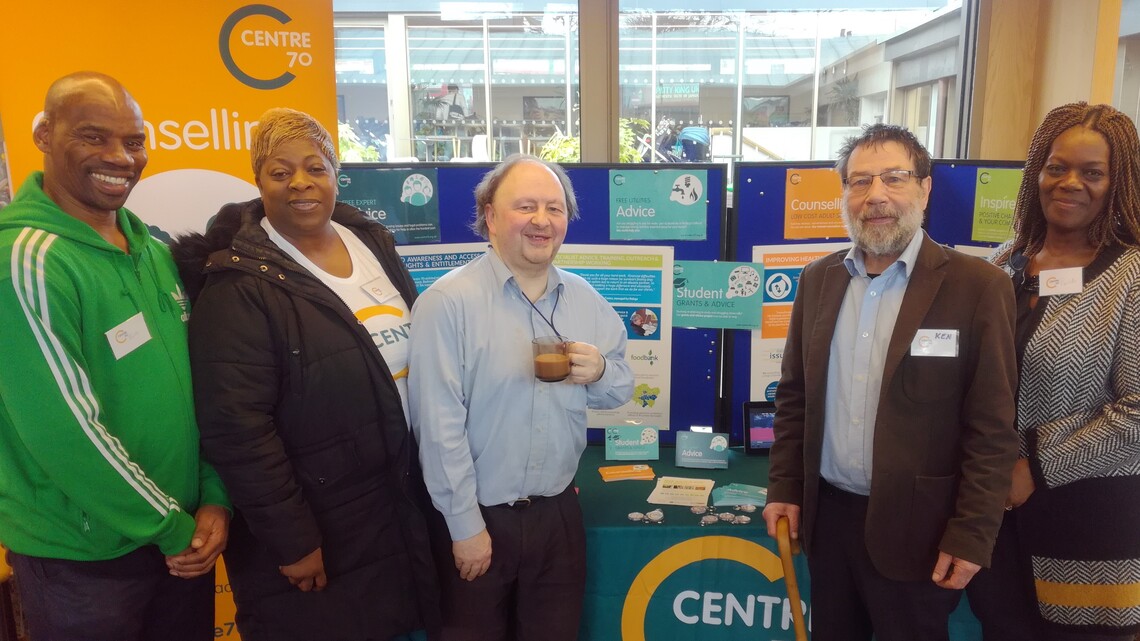 13:15, 12 Apr 2019 by Kate White

Archive
Use the calendar or list of months to view entries made on those dates.
| S | M | T | W | T | F | S |
| --- | --- | --- | --- | --- | --- | --- |
| | | | 1 | 2 | 3 | 4 |
| 5 | 6 | 7 | 8 | 9 | 10 | 11 |
| 12 | 13 | 14 | 15 | 16 | 17 | 18 |
| 19 | 20 | 21 | 22 | 23 | 24 | 25 |
| 26 | 27 | 28 | 29 | 30 | 31 | |